Comunicato stampa:
I leggendari deathster olandesi ASPHYX pubblicheranno il loro nuovo e decimo album "Necroceros" il 22 gennaio 2021 su Century Media Records.
Nel frattempo la band è lieta di presentare il secondo singolo "Knights Templar Stand", accompagnato da un lyric video creato da Maurice Swinkels / Younique Film (Legion Of the Damned, Exodus, Kataklysm, etc.):
Il commento del frontman Martin van Drunen:
Un ritmo incalzante per un brano che parla di cavalieri templari in battaglia. In inferiorità numerica ma in piedi fino alla fine. Un brano in perfetto stile Asphyx.
Disponibile il video del primo singolo estratto "Botox Implosion", anch'esso diretto da Maurice Swinkels / Younique Film:
"Necroceros" è stato registrato presso lo studio di registrazione di Tom Meier e i The Mörserstudio dello stesso Paul Baayens, chitarrista della band, e successivamente mixato e masterizzato da Sebastian "Seeb" Levermann presso i Greenman Studios.
Di seguito l'artwork realizzato da Axel Hermann e la tracklist dell'album: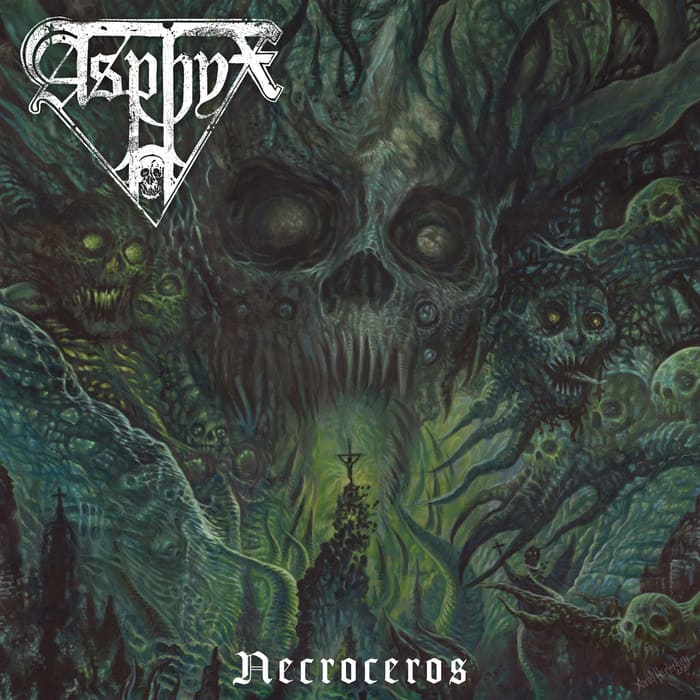 1. The Sole Cure is Death
2. Molten Black Earth
3. Mount Skull
4. Knights Templar Stand
5. Three Years of Famine
6. Botox Implosion
7. In Blazing Oceans
8. The Nameless Elite
9. Yield or Die
10. Necroceros
"Necroceros" sarà disponibile nei seguenti formati: https://asphyx.lnk.to/NecrocerosPR
Standard Jewelcase CD
Digital Album
180g LP
Limited Mediabook CD+DVD
Strictly limited Deluxe Gatefold 2LP+DVD
La Limited Mediabook CD+DVD edition conterrà un booklet esteso di 40 pagine e il bonus DVD "30 Years of Death Doom Domination", con oltre due ore di contenuti. Il DVD include lo show speciale che gli Asphyx hanno tenuto nel 2017 presso il Turock di Essen con riprese e audio originali, alcune riprese delle prove della band e un'intervista con tutti i membri attuali e passati.
La versione strictly limited Deluxe 2LP sarà disponibile in dark green-yellow-white splattered vinyl (limitata a 500 copie tramite CM Distro o tramite la band) oppure white-black marbled vinyl (limitata a 500 copie tramite Nuclear Blast. Oltre al DVD bonus "30 Years Of Death Doom Domination" conterrà anche un 12″ con due bonus track ("Full Death Metal Scenario" e "Triple D") e incisione sul lato D. Questa edizione contiene anche un poster in formato A2, un booklet formato LP di 24 pagine e una card autografata dalla band.
La versione LP sarà in formato 180g con poster A2 incluso e sarà disponibile nelle seguenti colorazioni e limitazioni:
Black LP: Unlimited
Clear LP: 200x copies (via CM Webshop Europe)
Dark green LP: 400x copies (via CM Distro Europe)
Transparent petrol green LP: 200x copies (via District 19 Webshop)
Deep blood red LP: 200x copies (via EMP)
Grey LP: 200x copies (via High Roller)
Mint colored LP: 200x copies (via Supreme Chaos)
Transparent blue LP: 200x copies (via Sound Of Records)
Olive green LP: 500x copies (via CM USA / All Outlets)
Brick red LP: 500x copies (via CM USA / Indie Outlets)
White LP: 200x copies (via CM USA / Revolver)
Transparent orange LP: 200x copies (via CM USA Webshop)
Oltre alla già annunciata partecipazione a svariati festival nel 2021 e 2022 gli Asphyx annunciano oggi un vero evento gratuito in live streaming per celebrare la release di "Necroceros", previsto il 23 gennaio 2021 presso il Metropol di Hengelo, Olanda. Ulteriori dettagli saranno comunicati nei prossimi giorni.